The kitchen island evolved as kitchens grew in size and functionality. A kitchen island is often the focal point of an open kitchen, serving as an eating nook or even a place to sit as you cook. Larger kitchen island designs and concepts work well. Small kitchen islands make the area appear smaller and cluttered. A kitchen island adds more counter space, storage, seating alternatives, and space for appliances.
Installing the kitchen island gives you additional space and utility without changing the existing design. A kitchen island is used for storage, cooking, prep, serving, & cleaning. Before you create your dream kitchen island, decide on its purpose. The purpose determines the length, width, and depth. Remember to set the kitchen island in a convenient location to boost the effectiveness of the kitchen workflow.
If you have a kitchen island and plan to build one, here are some ideas for repurposing it for greater aesthetic, efficiency, and practicality. Read also Home Renovation Ideas.
1. A Small Upgrade
Begin by upgrading the island lightly. Add some handy kitchen utensils Make a breakfast nook. Add a cutting board or a grilling rack for your meat and veggies. Give it a dash of Or use the counter as a work surface. A minibar is another fantastic option to enhance the decor. With glass racks over the counter and alcohol storage below. Add more electrical outlets to a island.
2. Colors
For a dramatic effect, use a matching or contrasting colour. A white kitchen is neat, tidy, and lovely. Colors of joy and cheerful make your kitchen more appealing and alive.
3. Create A Focal Point
Adding lighting fixtures creates a room focal point. Then hang pendant lights and spotlights. A high-impact countertop material such as recycled glass, marble, or granite is required for the kitchen island. A visual pleasure.
4. Seating
Add chairs all around kitchen island to eat, work, or entertain visitors while you cook. Ensure that each seat has 24 inches between them to avoid elbow collisions. Adding seating alternatives creates an informal dining room for less guests and design ideas enhance the kitchen's beauty. The chair's height should always match the counter's height.
5. Unique
Make your own kitchen island. If you prefer to bake, you could include a large countertop with a bottom oven. Countertop with chopping board and washing sink. Or a clutter-free counter for displaying your prepared dinners and salads. Kitchen islands can be multi-tiered or multi-layered, depending on available space, intended use, and kitchen plan concepts. Add more cabinets & shelves to your kitchen island for more storage.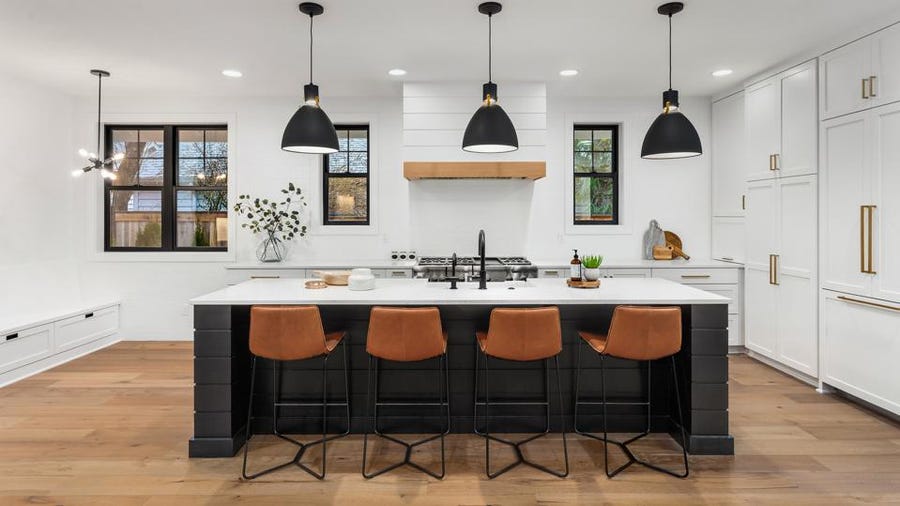 6. Shelf-Opening
Make a statement with kitchen design islands. Just a few shelves for your dishes. Close them or cover it with glass. Create a stunning display of kitchen accessories on your shelves.
7. Make A Splash
Make a statement with such a kitchen island in a contrasting colour or style. Match it with chairs and bar stools for a more fantastic look.
8. Shapes
The kitchen island does not have to be rectangular. Customize it to your taste and kitchen space. Make a T-shaped or L-shaped kitchen island instead of a rectangular one. Curved islands are stunning and add to space. Make sure the island doesn't take up too much space and that it's easy to go in and out.
Construction Dumpster
Home renovations may be exciting. Remodeling your kitchen may be a lot of fun. Few things are more inspiring & uplifting than just a modern as well as functional kitchen. Consider dumpster rental if you really want to simplify your forthcoming kitchen remodelling job. Why should you consider renting a dumpster for renovations? Kitchen renovations are usually big projects. They often necessitate demolition. If you're completely redoing your kitchen, renting a dumpster may make the task much simpler. Debris strewn about can be a major inconvenience. Getting a dumpster can greatly ease your cleanup tasks. It can also provide you additional workspace.
https://www.homeyhomedesign.com/wp-content/uploads/2022/04/New-kitchen-renovation-trends-How-homeowners-are-falling-apart-in.jpg
1058
1763
homedesigner
https://www.homeyhomedesign.com/wp-content/uploads/2022/04/Screenshot_208-removebg-preview.png
homedesigner
2021-10-25 09:42:03
2022-04-05 12:47:12
8 Kitchen Island Renovation Ideas – Trending Kitchen Renovation Ideas