Today I want to show you how to make a basic sign. I am sure there are a ton of different ways to make signs but lucky for you I only know how to do it the easy way! With Thanksgiving soon to come I thought I would make a new sign to replace the welcome one that is currently on the front porch. Here's how it turned out:
If you would like to try your hand at this, here's what you need:
- a thin board (thick ones make hanging difficult)
- pencil
- computer paper, to print out your letters
- cheap acrylic paint and a paint brush
- a hook to hang it with
First, determine your background color. I usually use white because whatever letters you paint will pop out from a white background. I mixed a little water with my brush to give my sign a whitewashed look (slightly distressed).
Second, choose your message and type it in a word document. This is the fun part, play around with the size and font of your letters. You want them big enough so that they are clearly visible and fit evenly on your sign. I used 'Copperplate Gothic Bold' font in a size 250. Print your message out. You can tell I tried out a few fonts.
Third, on the back of your letters use a pencil and shade the edges of your letters. Now, for this step, you can use graphite paper. I have done this in the past but I find that the graphite paper leaves a mess anywhere you apply pressure.
I used graphite paper for this sign below and its not bad but it looks dirty.
So, I prefer the pencil method. Shading the back of the letters will give you the outline of the letters when you trace them on the front.
Fourth, using a fine brush and acrylic paint fill in your letters. Once you have this all done look to see if your letters fill your sign. You don't want a ton of white space around them. If you find you do, you can paint stripes like I did here or as with my welcome sign, paint a border around it. It just looks better graphically that way.
This is what happens when your three year old wants to see if there really is paint in that jar.
To hang your sign you can do a number of different things. I chose to use one of these saw tooth thingy's (and yes this is the official term for them ;) ) Just pound it into the back and you are ready to hang!
And now, the end result:
Now see how easy that was! I hope you are inspired! Happy painting!
-Jody
I am linking up here:
thriftydecorchick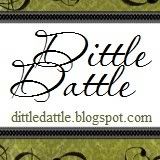 and: http://www.domestically-speaking.com/